Central bank Governor Emefiele said to tolerate naira dropping

Naira forward contracts jump to highest levels since March

Advertsement

Nigeria's central bank will let the market determine the naira's rate in a new foreign-exchange window for portfolio investors as the nation struggles to revive its economy amid a dollar shortage. Naira forward contracts and banking stocks rose.
Governor Godwin Emefiele told senior bankers that he would tolerate the naira weakening in the window, which started today, according to a person who attended meetings with the policy maker over the past two weeks. While that may cause the currency to depreciate to its black-market level, the central bank probably won't devalue the interbank exchange rate, the person said, declining to be identified because he wasn't authorized to speak publicly.
Isaac Okorafor, a spokesman for the central bank, didn't answer calls to his mobile or immediately respond to a text message.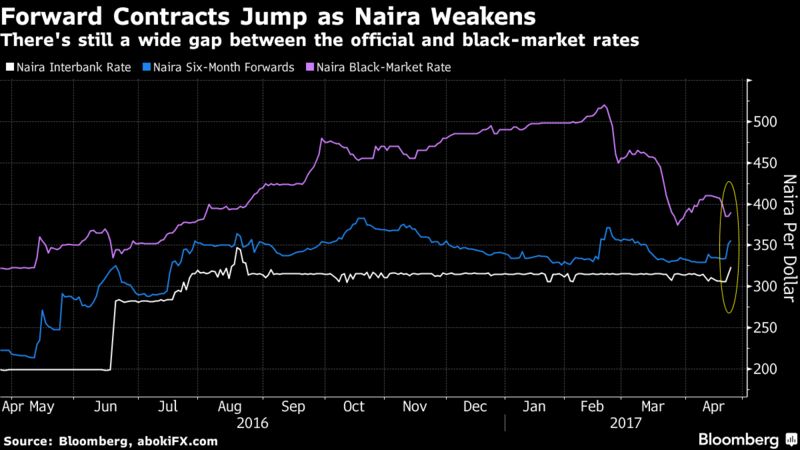 Nigeria has suffered from a dearth of foreign exchange after the price of oil, its main source of revenue, collapsed from 2014. While crude prices have since risen, some investors say the central bank's capital controls and attempts to stop the naira from weakening are exacerbating the crisis. The nation's economy contracted last year for the first time since 1991.
The naira has traded at around 315 per dollar on the interbank, or spot, market since August. The black-market rate plummeted to a record 520 against the greenback in February, but recovered to 390 after the central bank sold $3 billion to $4 billion on the forward and spot markets.
Three-month non-deliverable forward contracts on the naira rose 0.9 percent to 355 per dollar at 4:14 p.m. in Lagos, the highest on a closing basis since March 6, suggesting traders see the currency weakening about 11 percent in that period. Six-month contracts rose 0.7 percent to 374.5.
Nigeria's banking sector stock index rose 3 percent, the most since Jan. 9, with lenders' earnings expected to be boosted by increased dollar liquidity.
FX Window
The foreign-exchange window will be for bond and stock investors as well as exporters, the central bank said in a statement late on April 21. The Abuja-based regulator said it "reserves the right to intervene."
The FMDQ OTC Securities Exchange, the Lagos-based trading platform, will publish the rate for the window, know as Nigerian Autonomous Foreign Exchange Rate Fixing, or NAFEX, each day. The first indicative closing rate on Monday was 377.11 per dollar.
small-business-ideas-for-small-towns